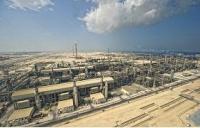 Qatar Liquefied Gas Company Limited (4) (Qatargas 4) and Centrica LNG Company Limited signed a flexible SPA for four and a half years starting in June 2014 and covering a volume of up to 3 million tonnes of LNG per year.
The LNG will come from Qatargas 4 (Train 7), a joint venture between Qatar Petroleum and Shell, and will be delivered to the Isle of Grain LNG Terminal in the United Kingdom.
His Excellency Dr. Mohammed Bin Saleh Al-Sada, Minister of Energy & Industry and Chairman of the Board of Directors of Qatargas, signed the SPA on behalf of Qatargas 4, while Sam Laidlaw, CEO signed on behalf of Centrica. Mark Hanafin, Managing Director of Centrica also took part in the ceremony in Doha.
His Excellency Dr. Mohammed Bin Saleh Al-Sada welcomed the signature of the SPA as "another achievement in Qatar's standing as a reliable provider of clean energy". Dr. Al-Sada said: "We are very pleased with this agreement as it further strengthens the existing relationship between Qatargas, the largest LNG producer in the world and Centrica, the largest gas supplier to the domestic gas market in the UK".
"Qatar continues to play a key role in supporting countries to diversify their sources of energy around the world" he added.
Qatargas' Chief Executive Officer, Khalid Bin Khalifa Al Thani, also added: "I am very proud that Qatargas continues to build strong long term relationships with its customers. The signing of this agreement represents our further commitment to have Centrica as a partner for the UK market which continues to be one of the most important LNG markets in Europe".
"Qatargas remains committed to delivering LNG to the world in a safe, reliable and flexible way."
Speaking at a ceremony in Doha, Centrica Chief Executive Sam Laidlaw said:" We are delighted that we continue to deepen our relationship with Qatargas. It is vital that the UK has a diverse range of sources of supply to meet its energy requirements and in a competitive international market, contracts like this underpin the UK's access to global LNG supplies for the benefit of British customers."
Executive representatives from Qatar Petroleum, Qatargas 4 and Centrica attended the ceremony, which was held in Doha at The Grand Heritage Hotel.
Qatargas and Centrica's partnership was established in 2010 with the signature of a Master Sales and Purchase Agreement (MSPA) and in April 2011 under the MSPA the Isle of Grain LNG Terminal received a Q-Max LNG vessel for the very first time. Subsequently the initial SPA between Qatargas and Centrica was signed in 2011 to supply up to 2.4 million tonnes per annum for duration of 3 years.