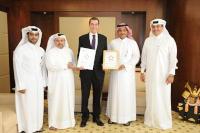 In recognition of its continued efforts to set the standard as a premier company and to safely, efficiently and reliably manage and operate all of its resources, the Qatargas Shipping Department has successfully achieved the maximum "Five Star Accreditation in Occupational Health and Safety Management" and the "Four Star Accreditation for Environmental Standards and Practices" awarded by the British Safety Council after an intensive evaluation conducted by the British Safety Council auditors.
As one of the world's most prestigious health, safety and environmental auditing organizations, the British Safety Council conducts a program to benchmark the Management Systems of companies against current global best practices through its internationally acclaimed "Five Star Audit" scheme.
Khalid Bin Khalifa Al-Thani, Qatargas Chief Executive Officer, received the award from Alex Botha, British Safety Council Chief Executive, at a special ceremony held at the Qatargas Doha Head Office.
During the ceremony, Khalid Bin Khalifa Al-Thani, Qatargas Chief Executive Officer, said: "We are honored to receive this prestigious recognition as evidence of our continued efforts to promote world class standards and integrate best practices into our business performance. Qatargas' Shipping Department has set yet another milestone and today we are proud to be the first Qatari organization to have achieved this highly significant global recognition. We are committed to maintaining and enhancing our performance to ensure we continue to meet the highest global standards through the years to come."