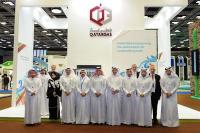 Qatargas is participating in the QP Environment Fair 2014 (QPEF 2014), being held at the Qatar National Convention Centre (QNCC) from 23 – 26 April, 2014.
This year's Fair being held under the theme "Use of Water in the Oil and Gas Industry", is the 8th edition of the event which was launched in 2004 with the objective of promoting environmental awareness among students, the employees of Qatar Petroleum and its joint ventures and subsidiaries, and the general public.
The Fair will highlight the importance of water within the oil and gas industry, and this environmental message will be delivered in various ways using diverse programs.
Qatargas has a themed stand at the Fair focusing on the Company's initiatives to reduce the consumption of water and increase its re-use. Water is used for various plant processes in Qatargas with its primary use being in generating steam which in turn is used for running the turbines. By 2016-2017, the total daily water requirement in Qatargas is expected to reach around 7500 cubic metres.
Qatargas is demonstrating its advanced wastewater management plans which seek to achieve sustainable wastewater reuse by utilizing biological-membrane bio-reactor (MBR) and tertiary reverse osmosis (RO) technologies. The MBR cleans the water through a filtration and biological process. Reverse osmosis produces desalinated water for reuse.