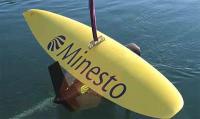 The renewable energy industry was excited late last year when marine energy technology company Minesto had successfully managed to produce electricity from low velocity currents off Northern Ireland, the first in the marine energy era. The marine power plant Deep Green has now been producing electricity for more than a year, and Minesto's founder and CEO Anders Jansson shares his experiences from the trials in this article.
The lush hills of Strangford Lough are truly a place of magic scenery. Portaferry, a small fishing village, is located one hour's drive from Belfast in Northern Ireland, and is today perhaps most famous for being close to the location where blockbuster Games of Thrones is filmed.
In this idyllic fishing village, struggling with a high unemployment rate and a diminishing population, something new and prosperous is growing. Looking out over the calm waters of Strangford Lough, one could hardly believe that under the ocean surface – that electricity can be produced.
In fact, as the sun starts to rise and another spring tide starts to take off, pushing massive amounts of water through the narrows, the 'underwater kite' called Deep Green initiates its electricity production. Strangford Lough has, due to its sheltered waters and good tidal conditions, become a popular area for the testing of tidal power plants; Siemens, Schottel, and Queens University of Belfast are all conducting their tests there.