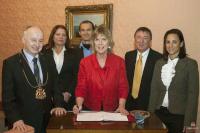 Reflex Marine has become the first European company to have its technology certified by the Brazilian Navy, the accredited body for offshore safety in the region.
The certification relates to the company's FROG-6 device and comes off the back of rigorous testing to scrutinise its capabilities.
The standard method of transfer offshore in Brazil is by helicopter and traditional rope baskets are commonly used as a contingency. However, the country's continuing commitment to exploring evolving methods of transfer has led to Reflex Marine being approached by a number of regional operators.
Carol Richards, Reflex Marine's regional sales manager for South America commented: 'In recent years we have been working with a number of operators in Brazil to identify improvements that could be made in safety during crew transfer operations. Gaining this accreditation is a significant milestone in our relationship with Brazil's burgeoning energy sector.