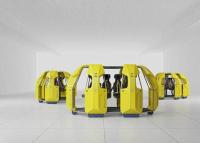 Reflex Marine's latest innovation in crane transfer technology, the FROG-XT range provides operators with the safest suite of personnel transfer devices on the market. The rigorously tested and verified devices, available in four, six and 10 person capacities, have been received positively by the industry and are already in use by major oil operators including TOTAL.
Reflex Marine is a global leader in safe marine transfer solutions to the offshore industry and has largely specialised in crane transfer and offshore access with its two key products, FROG and TORO, driving forward improved safety standards. The company has set new standards and expectations for the industry, changing the perspective of crew transfer from being seen as inherently high-risk, to being accepted as a manageable activity that can be performed safely and cost effectively to ensure continuity in offshore operations, either in day-to-day transfers or as a contingency arrangement.
The FROG-XT is an evolution of the current FROG capsule and captures over 20 years of Reflex Marine's vast learning and experience. The range allows for low and high capacity transfers as well as the capacity for all devices to be quickly and easily converted to MedEvac mode to transfer casualties.
The advanced design features of the new FROG-XT provide greater comfort and a more secure passenger experience, whilst being more compact and easier to ship and maintain. Wider operating parameters as well as the ability for high capacity transfers makes the FROG-XT range extremely versatile allowing for flexibility in operations.