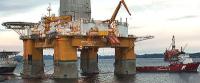 Statoil, on behalf of the Johan Sverdrup licence, has awarded two contracts at a total value of more than NOK 4.35 billion to Odfjell Drilling for drilling wells on the Johan Sverdrup field.
Odfjell Drilling has been awarded contracts both for the Deepsea Atlantic semi-submersible rig and for drilling services on the fixed drilling unit to be installed on the Johan Sverdup field.
The rig contract includes the charter of the Deepsea Atlantic rig for three years, starting from March 2016. In addition there are six 6-months options. The rig contract has a value of slightly more than NOK 2.5 billion.
"This contract is an important milestone for the Johan Sverdrup project. We have secured an efficient rig that will help maximise values from the field on competitive terms," says Margareth Øvrum, Statoil's executive vice president, Technology, Projects and Drilling.
"The Deepsea Atlantic rig will drill minimum 13 pilot wells on the field prior to production start from Johan Sverdrup in late 2019. This enables us to utilise the production capacity from Johan Sverdrup as efficiently as possible," says Øivind Reinertsen, senior vice president for the Johan Sverdrup field.
Statoil has also signed a contract with Odfjell Drilling for drilling services on the fixed drilling unit on the Johan Sverdrup field complex starting in December 2018.
This contract has an estimated value of NOK 1.85 billion, and a duration of four years, including six 1-year options. Drilling from Johan Sverdrup's fixed installation will be supported from Odfjell Drilling's office in Stavanger.
"Johan Sverdrup will generate great values for the whole society for more than 50 years. Odfjell Drilling will work closely with our operations organisation in Stavanger to ensure safe operations and add maximum value in the Johan Sverdrup drilling and well processes," says Reinertsen.