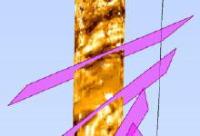 Schlumberger has launched the Quanta Geo photorealistic reservoir geology service at the Offshore Northern Seas Annual Conference and Exhibition.
The new service includes the industry's first microresistivity imager that produces oriented, photorealistic, core-like images of the formation in wells drilled with oil-base mud (OBM). Interpretation of the images identifies geological features and predicts reservoir trends in 3D with a high degree of certainty.
"Geological imaging in wells drilled with OBM has long been recognized by operators as a major technical challenge, particularly in deepwater," said Hinda Gharbi, president, Wireline, Schlumberger. "The Quanta Geo service provides photorealistic images that can be used to condition and constrain reservoir models, enabling our customers to better understand their reservoirs and make decisions with more confidence."
The physics of the Quanta Geo service's high-resolution array of 192 microelectrodes overcomes the electrically resistive barrier imposed by OBM. The unique articulated caliper and independently applied pads enable down-logging at up to 3,600 ft/hour, which significantly reduces rig time while mitigating operational risk and delivering data assurance. The service is combinable with most other Schlumberger wireline openhole tools.