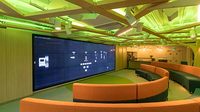 Scotland's First Minister, Nicola Sturgeon MSP was in Aberdeen to unveil a new state-of-the-art facility to drive innovation in the oil and gas industry, and accelerate new technologies to help unlock the full potential of the UK North Sea.
The First Minister joined industry and civic leaders for the official opening of the Oil & Gas Technology Centre's Innovation Hub, a unique collaboration environment designed to help innovators take their concepts from initial inspiration to final implementation.
The Hub is an exciting and stimulating space, working in partnership with the industry and technology providers to develop breakthrough solutions, connecting problems with solutions and solutions with problems.
It is designed to bring the outside in, sharing thinking and ideas from other industrial sectors and showcasing new solutions, enabling visitors to learn about the latest developments and get hands-on experience with cutting-edge technologies.
The Hub has a programme of innovation events and workshops with expert facilitation, bringing together leading academics and recognised experts from industries beyond oil and gas to help generate new concepts and ideas.
Supporting the Oil & Gas Technology Centre's goals to unlock the potential of UK North Sea, anchor the supply chain in North-East Scotland and create a culture of innovation in the region, the Hub will promote collaboration and create new innovation networks.
It will also be used to inspire the next generation of innovators in partnership with schools, colleges and universities across the region, helping define and create the skills required for the technology-enabled future of the oil and gas industry.
The Oil & Gas Technology Centre worked with a range of North-East companies to create the Innovation Hub, from its main construction partner, architects and quantity surveyor, to its technology installer and caterer.
Luca Corradi, Innovation Network Director at the Oil & Gas Technology Centre, says, "We're delighted the First Minister could be with us today, to open the Innovation Hub. It will be a catalyst for new thinking and new ideas, working in partnership with innovators and oil and gas companies to develop technology solutions for industry challenges. The Hub uses the latest facilitation tools and techniques to harness creativity and turn ideas into actions. We look forward to working with schools and universities to create a programme to inspire a new generation of innovators."
Nicola Sturgeon, Scotland's First Minister says, "The Oil & Gas Technology Centre has made fantastic progress since opening its doors in February of this year. The new Hub aims to be the engine for innovation in the UK oil and gas industry. The state-of-the-art facility will speed up deployment of new technologies to help unlock the full potential of the North Sea, and cement Aberdeen's reputation as a global centre for innovation and technology development."
Lord Duncan, Parliamentary Under Secretary of State for Scotland says, "The Hub's potential is being embraced by an ever-increasing number of companies. They recognise its important role in addressing industry problems and how it can explore oil and gas relevant applications of technology adopted in other industries, such as renewables. As the single biggest investment of the Aberdeen City Region-Deal, with GBP 90 million of UK Government money, the GBP 180 million oil and gas technology centre is already making a difference, and this innovation hub will be a game changer when it comes to finding new solutions and using cutting edge technology to support the oil and gas industry."
"When I visited the space earlier in the summer I could tell that it had the potential to make a real difference to how we exploit the resources in the North Sea and develop technology that we can export around the world. I look forward to returning to the centre when it is fully up and running to hear more about the great work that is being done," adds Lord Duncan.
Steve Phimister, Upstream Director UK & Ireland at Shell, who gave a keynote speech the event, says, "Technology is providing solutions as the oil and gas sector seeks to maximise economic recovery from the North Sea. The Innovation Hub will help in embracing future opportunities as well as reinforcing the skills and capabilities which exist in this region and across the supply chain."
Chair of the City Region Deal Joint Committee Cllr Jim Gifford says, "I am delighted to be here today to be part of the opening of the Innovation Hub. Every milestone reached in the journey of our City Region Deal is to be celebrated. That is because each one represents a step towards a new and exciting future. We are seeing projects becoming a reality, like the opening of the Innovation Hub today, and people are starting to see tangible benefits coming from City Region Deal."
"The deal itself was formally signed a little under a year ago, and is worth GBP 826 million to the region. A further funding package of GBP 254 million from the Scottish Government was also announced. This puts us in an enviable position, and I am very pleased that less than a year in we have openings and progress. Now we need to capitalise on that energy and keep the momentum up. We all look forward to significant announcements to come," Gifford adds.
Cllr Douglas Lumsden, co-leader of Aberdeen City Council and convener of the Finance, Policy and Resources Committee, says, "The Aberdeen City Region Deal is integral to our regional economic strategy, which recognises the importance of anchoring the oil and gas supply chain to the area and ensuring a vibrant long-term future as a global energy hub. Pushing the boundaries using the vast expertise we have in and around Aberdeen will be crucial to achieving those aims and the launch of the Innovation Hub is a tangible example of the theory being put into practice. Aberdeen City Council is proud to be at the heart of the innovation being delivered by the City Region Deal."