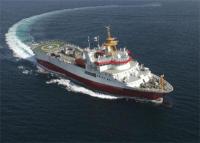 Searcher Seismic, in association with Dolphin Geophysical, has commenced on the new 3,143km2 3D SHarp BroadBand Multi-Client seismic survey in the Maud Basin South area of the Norwegian Barents Sea.
The Maud Basin South 3D Seismic Survey will image the similar play types that in the last few weeks have successfully resulted in some large oil discoveries by both OMV and Lundin. The OMV operated Wisting discovery made last month in the Jurassic sandstones, to which this survey will tie, could potentially consist of over 100 million barrels of recoverable oil.
For the first time in Norway, the Lundin operated Gotha discovery on the Loppa High may contain over 100 million barrels recoverable oil in the Permian limestones and could result in an interest to pursue this play. The Maud Basin South 3D survey also covers the north-western part of the Loppa High and may provide an opportunity for multiple oil plays within the 3D survey area.