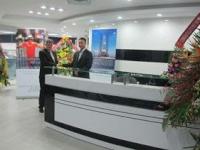 Semco Maritime and PetroVietnam Marine Shipyard join forces to establish high class rig upgrade player in South East Asia - Vung Tau Rig Services. The initiative shall tap into the growing market for rig upgrades in the region.
Semco Maritime opens new office at the PetroVietnam Marine Shipyard office building to strengthen the strategic partnership PetroVietnam Marine Shipyard (PVMS) and Semco Maritime JSC have entered into a strategic partnership with the aim to perform rig repair, refurbishment and upgrades in Vietnam for local and international rig operators in the region. The companies are combining their strong competences to offer high quality and cost efficient solutions under the alliance brand name: Vung Tau Rig Services.
Vung Tau Rig Services is a competitive and strong new provider of rig services in South East Asia. Semco Maritime and PVMS have worked together since 2012 and the partnership successfully completed two major rig upgrades in 2013. Now was the time to strengthen the cooperation even further.
"We've had operations in Vietnam since 2010, and we have been very active within accommodation modules," says Morten Clausen, Managing Director of Semco Maritime JSC. "Now we are ready for phase two of our business plan with a focus on upgrades for the South East Asian offshore rig market and doing that with PVMS in our joint Vung Tau Rig Services holds very promising prospects and adds significantly to our South East Asia presence," says Morten Clausen.