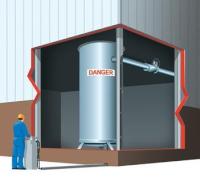 Smith Flow Control confirms the launch of FlexiDrive II, a dependable, versatile and cost effective remote valve operator.
The FlexiDrive II includes a new fully integrated counter mechanism, failsafe even in the most aggressive of environments. The counter mechanism displays valve position (open/closed), providing the operator with a clear indication of valve status.
Smith Flow Control's FlexiDrive II valve operator can be applied to any handwheel operated valve, including lever operated valves (quarter turns) in oil, gas or petrochemical processing plants to make them constantly accessible and safe, regardless of location.
The FlexiDrive II system allows the user to operate a valve in a place of safety/convenience. It is adaptable to any conventional valve with no modification requirements. A patented, flexible, linear drive cable effectively delivers rotary torque for distances up to 30 metres. The system can be passed through and around walls, bulkheads and floors, and is completely sealed and lubricated for maintenance-free, continuous loop operation.
FlexiDrive II is constructed from corrosion-resistant, 316 Stainless Steel and can be submerged into flooded pits. It is designed to withstand temperatures from -30 to 175 degrees Celsius and is delivered as a complete sealed unit.