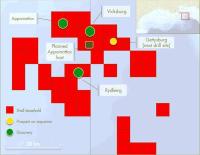 Shell has made third major discovery in the Norphlet play in the deep waters of the Gulf of Mexico with the successful Rydberg exploration well. After more than 10 years of exploration activities in the Eastern Gulf of Mexico, Shell continues to lead industry in exploring this Jurassic play.
'The Rydberg discovery builds upon our leadership position in the Eastern Gulf of Mexico and its proximity to our other discoveries in the area make Rydberg particularly exciting.' said Marvin Odum, Shell Upstream Americas Director. 'These successes represent the emergence of another hub for Shell's deep-water activities that should generate shareholder value.'
The Rydberg well is located 75 miles (120 kilometres) offshore in the Mississippi Canyon Block 525 in 7,479 feet (2,280 metres) of water. It was drilled to a total depth of 26,371 feet (8,038 metres) and encountered more than 400 feet (122 metres) of net oil pay.
Shell is completing the full evaluation of the well results but expects the resource base to be approximately 100 million barrels of oil equivalent. Together with the Appomattox and Vicksburg discoveries, this brings the total potential Norphlet discoveries to over 700 million barrels of oil equivalent.
This is the first discovery for the partnership of Shell (operator, interest 57.2%), Ecopetrol America Inc. (28.5%) and Nexen (14.3%), a wholly-owned affiliate of CNOOC Limited. The discovery is within 10 miles (16 kilometres) of the planned Appomattox development and the 2013 Vicksburg discovery (Shell, operator, 75% and Nexen, 25%).