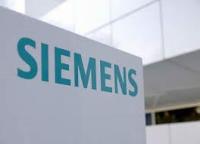 Siemens has installed a fourth offshore platform in the North Sea, completing an important stage for grid connections of sea-based wind farms. This is the platform for the SylWin1 DC link, which is the most powerful of the four offshore wind power grid connections contracted to Siemens by the German-Dutch transmission grid operator TenneT between 2010 and 2011. Only a few days prior to this, Siemens installed the third platform at sea for the HelWin2 grid connection. In all, Siemens is implementing five North Sea grid connection projects for TenneT. The first four grid connections, whose platforms have now been installed at sea, are scheduled to take up commercial operation successively between the second half of 2014 and the first half of 2015. The fifth grid connection, which was contracted earlier this year, is slated to go on-line in 2019.
"We have now erected four high-tech platforms for TenneT in the North Sea. We succeeded in completing the first installation last year and erected the other three platforms in quick succession this year – an ambitious task as far as technology and logistics go. Once they have been commissioned, these grid connections will supply electricity from offshore wind power for around three million households", stated Jan Mrosik, CEO of the Power Transmission and Smart Grid Divisions of Siemens AG. "In the past few days, we have erected two platforms in quick succession that will provide approximately 1.5 gigawatts of additional capacity for feeding offshore wind energy into the onshore transmission grid. The German government has decided to increase the transmission capacity for offshore wind energy by 6.5 gigawatts in the period until 2020. In 2015, two-thirds of that target will already have been achieved," said Wilfried Breuer, Offshore Director at TenneT Germany.
The newly installed SylWin1 platform with a capacity of 864 megawatts (MW) and located 70 km to the west of the island Sylt, after which the project was named, will concentrate the wind power produced by the three North Sea wind farms Dan Tysk, Butendiek and Sandbank and transmit the electricity to land. This platform, with dimensions of 83 x 56 x 26 meters (length x width x height) is the largest converter platform installed to date worldwide. With its baseframe, the platform has a total weight of 25,000 tons. Only a few days before this, Siemens also erected the HelWin2 platform (690 MW) 35 km north of the island of Helgoland. The HelWin1 platform (576 MW) was installed in August 2013 adjacently. The BorWin2 platform (800 MW) was installed by Siemens in April 2014 northwest of the island of Borkum. These four grid connections will have a total transmission capacity of more than 2.9 gigawatts (GW), with enough wind power to supply around three million households. The fifth grid connection, BorWin3 (900 MW), which was ordered this year, is scheduled to supply wind power to a further 900,000 households starting in 2019.