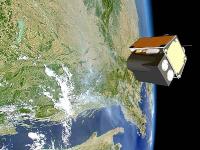 Early last week an event took place in Harwell, Oxford, UK at the Satellite Applications Catapult.  It was staged by Merchant Marketing Group, a company with a long association with Energy/Oil & Gas industries and The Satellite Applications Catapult, an independent innovation and technology company, created in the UK to foster growth across the economy through the exploitation of space.
The event, called "Oil & Gas Applications: A meditation on crossover technologies and multi-market applications", involved such organisations as Rolls-Royce, IHC Concept, Centrica, OGIC, Nottingham University spin-out company, GVL Geomatic Ventures, and The TNW Group. Data harvesting, curation and intelligent fusion, and also, interoperability between AUVs, sonar systems, seabed arrays and satellites were all discussed. The challenges of decommissioning, and the further exploration of what are known as 'small pools' remain salient to the future of the North Sea, and require a vigorous adoption of innovative technologies to continue to make a difference to this important industry.
"Technology will play a huge future in the oil and gas industry. It's an essential resource in terms of managing the future of increasingly complex operational issues," says Paul Jones, CEO of the Merchant Marketing Group, "It is also a remedy to the spiralling costs faced by the oil and gas industry. If the industry can make an even bigger commitment to innovation and new ways of working a new way of working we are not ultimately persevering an industry, but bolstering the brand of, for example, the UKCS. The UKCS has a long and proud history of innovation. It's the industry's hallmark, its brand, and it is part of what we have successfully exported to the world, enabling deepwater exploration and oil and gas ventures in such far-flung places as offshore Brazil and Southeast Asia."
The next steps following this event will be to hold a more detailed workshop to uncover new ways of working, partnerships and technology applications.
Satellites Applications and the Oil and Gas Industry
The oil and gas sector is increasingly using video streaming for operations' monitoring and crew welfare.
Northern Sky Research (NSR), an international market research and consulting firm specialising in telecommunications technology, with a particular focus on satellite and wireless technologies, expects almost 17 Gbps of demand from oil and gas end-users on High Throughput Satellites (HTS) by 2022, with growth taking off in a big way in 2017.
There is an increasing demand for satellite technology to connect remote exploration sites to the main trunk communication networks and head offices.
BrasTrading, an infrastructure-engineering firm with roots in Brazil, found the following:
Multi-path communications, applications-aware networks, universal device IP-connectivity – all will be required to improve on-board situational awareness, enabling faster decision making, facilitating real-time remote control, increased automation, lower operating costs, and creating a safer working environment.
Research from NSR projects global Oil and Gas Satellite revenues will be yielding a total revenue of USD 8.8 billion over a 10-year period. The growth will be driven by new technologies such as High Throughput Satellites (HTS), and the push of oil and gas operations into more and more remote environments where satellite communications is the only game in town.
Deepwater Opportunities
There are large amounts of known but unproven oil reserves throughout the world. Many can be found in deeper waters further away from shore and beyond the reach of terrestrial communications options. This presents an excellent opportunity for satellite service providers.
Despite the present slump in oil price and an estimated USD 1 trillion (GBP 704 billion) less being spent on development and exploration in 2015-20, NOCs and multinationals continue to invest in deepwater opportunities, with expectation the oil prices will recover to some respectable level by the end of 2016. Oil & Gas companies continue to look for the "next big thing" in deeper waters and northern climates. As terrestrial solutions continue to penetrate the traditional markets, these next big deepwater opportunities will be where satellite-based solutions dominate.
The Satellite Applications Catapult says that it sees the biggest trend it foresees is a demand for more bandwidth balanced by a need for more cost-effective means of delivery. "Offshore operations may want 2, 4 or 10 times the bandwidth they experience today, but they can't necessarily afford up to ten times the price," says Sean McCarthy, Head of Market Facing Programmes at Satellite Applications Catapult.
"Broadband access is no longer a 'nice to have'. It is critical for the younger generation of employees tasked for working in far locations for weeks on end. From an innovation perspective, we are helping the industry to focus on new technologies both in orbit and on the ground that improve the bandwidth delivery proposition for the client."