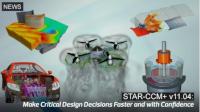 CD-adapco, a global provider of multidisciplinary engineering simulation and design exploration software, has announced the release of STAR-CCM+® v11.04, its industry-leading engineering simulation solution. This release is aimed at empowering engineers across industries to make critical design decisions quickly and with confidence through new modeling capabilities, improved simulation workflows and reductions in overall time-to-solution.
"STAR-CCM+ v11.04 remains focused on making engineers more effective and enabling them to discover better designs, faster," says CD-adapco Senior VP of Product Management Jean-Claude Ercolanelli. "This release also expands on the applications coverage in industries such as Turbomachinery, Marine, Oil and Gas, Aerospace, Ground Transportation, and Electric Machines."
On June 14, Siemens announced that STAR-CCM+ is part of the Simcenter™ portfolio, a comprehensive suite of simulation and test solutions for predictive engineering analytics. The purpose of Simcenter is to help companies develop digital twins that can predict real-world behavior of products and address complex engineering challenges.
"We are excited and proud to have STAR-CCM+ now part of the Simcenter portfolio," says Ercolanelli. "Siemens is building a powerful suite of simulation and test solutions, which advance our mission to allow our customers to predict product performance earlier and more accurately throughout the entire product lifecycle. Our continued focus on purposeful releases, combined with the Simcenter portfolio, results in better performing and more innovative products."
STAR-CCM+ v11.04 has many new features drawn from ideas posted on IdeaStorm, the CD-adapco customers' innovation forum. They include:
Expanded multiphase simulation capabilities for Turbomachinery customers for applications such as pumps and wet gas compressors.
Increased accuracy and faster time-to-solution for Marine and Oil and Gas customers with a new wave forcing model, and automatic time-step adjustment for transient runs.
Reduced time-to-solution for Aerospace and Ground Transportation customers by enabling steady-state fluid film simulations, when appropriate, for applications such as water management and aircraft icing.
Increased flexibility and ease of use for Ground Transportation and Electronics customers when modeling conjugate heat transfer of composite laminate structures.
Introduction of 3D Finite Element Electromagnetics, further expanding the STAR-CCM+ multiphysics platform to model electromagnetic problems for applications such as electric machines, transformers and plasma devices.