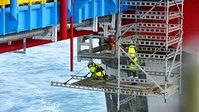 Statoil has awarded renegotiated framework agreements to Bilfinger Industrier Norge AS and Kaefer Energy AS for ISO services (insulation, scaffolding and surface treatment). Valued at a total of more than NOK 7 billion, the contracts will run until the end of 2030.
"We aim at predictability in our interaction with the suppliers. Thanks to our close and good dialogue with Bilfinger and Kaefer we have now established long-term contracts that both ensure good technical solutions, and are commercially sustainable for the companies. This provides us with the necessary basis for long-term collaboration to drive safety and efficiency improvements, which we look forward to," says Statoil's chief procurement officer, Pål Eitrheim.
The framework agreements cover ISO services for the Norwegian continental shelf (NCS), with flexibility for use across all facilities on the NCS and onshore in Norway.
The agreements facilitate increased innovation and technology development within the ISO services performed at Statoil facilities. This also includes stimulating further upgrading of specialist skills and increased percentage of apprenticeship certificates.
"We look forward to continuing our partnership and improvement work with Bilfinger and Kaefer. The ISO disciplines help ensure safe and efficient operations at our facilities. This work is important in order to achieve a sustainable cost level, thus supporting long-term production on the NCS," says senior vice president for operations technology in Development and Production Norway, Kjetil Hove.
Bilfinger and Kaefer have been responsible for the ISO services on the installations where renegotiated framework agreements have now been signed since 2010. An exception from this is Draupner, where change of supplier opens for a more flexible utilisation of resources across Sleipner Multifield.
In 2016 Statoil signed framework agreements with Beerenberg Corp AS and Prezioso Linjebygg AS for the other installations on the NCS and onshore plants, and has now covered its needs for ISO services at facilities currently on-line until 2030.
The list of plants below shows what installations the two renegotiated agreements will cover (installations on the NCS not mentioned in the list will continue with their current ISO contracts):
Snorre A/B: Bilfinger
Sleipner A/B/R/T : Bilfinger
Gudrun: Bilfinger
Gina Krog: Bilfinger
Draupner: Bilfinger
Oseberg Feltsenter: Bilfinger
Veslefrikk: Bilfinger
Troll A/B/C: Kaefer
Åsgard A/B: Kaefer
Kristin: Kaefer