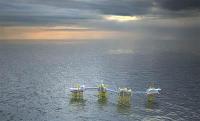 Statoil and the partners in the Johan Sverdrup field have decided on a concept for the first development phase. The partners have agreed on a field centre consisting of four installations and power from shore.
Johan Sverdrup is among the largest oil fields on the Norwegian shelf, and will at peak contribute with 25% of the production from the Norwegian shelf. The giant field is expected to start production in late 2019. The field lifetime will be 50 years, with an anticipated plateau production of 550,000-650,000 barrels of oil equivalent/day (boe/d) field capacity (Statoil share ~40%).
The partners have decided on power from shore for the Johan Sverdrup field in the first phase, which will reduce total CO2 emissions from the Utsira High area by 60-70%.
"This is historic. We have not made a concept selection for a field this size since the 1980s," says Arne Sigve Nylund, executive vice president for development and production in Norway.