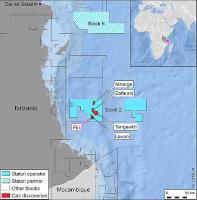 The discovery in the Piri prospect is Statoil and co-venturer ExxonMobil's sixth discovery and the fifth high-impact discovery in Block 2 offshore Tanzania.
The discovery of an additional two to three trillion cubic feet (tcf) of natural gas in place in the Piri-1 well brings the total of in-place volumes up to approximately 20 tcf in Block 2.
"Since 2012 we have had a 100% success rate in Tanzania and the area has become a core exploration area in a very short period of time. We quickly went from drilling one well to a multi-well programme, and with Piri-1 we are continuing the success," says Nick Maden, senior vice president for Statoil's exploration activities in the Western Hemisphere.
The new gas discovery was made in the same Lower Cretaceous sandstones as the gas discovery in the Zafarani-1 well drilled in 2012.