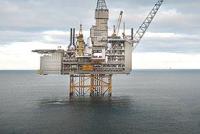 Operator Statoil has together with PL035 partners completed a two-well programme in the Krafla area in the North Sea. Since 2011 significant new recoverable resources have been proven in the area.
The Krafla Main Tarbert appraisal well and the small oil discovery in the Krafla North prospect in December has increased the robustness of the Krafla field development project.
"Since 2011 we have made five discoveries in the Krafla area which includes the licences PL035 and PL272: Krafla Main, Krafla West, Askja West, Askja East and Krafla North," says Irene Rummelhoff, Statoil senior vice president for exploration on the Norwegian continental shelf (NCS).
"Altogether we expect to have discovered recoverable resources in a range of 140-220 million barrels of oil equivalent just 25 kilometres southwest of Oseberg South and 150 kilometres west of Bergen. These are very substantial volumes for a mature area of the shelf," says Rummelhoff.
Statoil puts a lot of effort into unlocking the full potential of the mature areas of the NCS, both through increased recovery initiatives in producing fields and targeted exploration programmes in surrounding areas.
The discoveries in the Krafla area once again demonstrate that growth opportunities still exist in the North Sea.
"Statoil has a unique role as an area architect in the mature parts of the NCS with long experience in developing new discoveries by utilising existing infrastructure," says Knut Skjoldli, vice president field development west in Statoil.
Statoil is the operator of PL035/PL272 with an interest of 50%. The partners are Svenska Petroleum Exploration AS (25%) and Det norske oljeselskap ASA (25%).