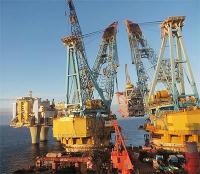 On 4 June, two new compressors were lifted aboard the Troll A platform in the North Sea. Once the compressors are up and running next year, they will boost recovery from Troll by more than 83 billion standard cubic meters of gas.
As gas is produced on the giant Troll field, pressure in the reservoir drops. Pressure on the platform is lowered to help the gas move up and compressors are used to keep it moving.
Vast volumes
Troll already has two compressors, which will now be joined by compressor numbers three and four. These two compressors will boost recovery from the giant field by 83 billion standard cubic metres of gas - 522 million barrels of oil equivalent. That's more than Aasta Hansteen and Valemon put together.
The compressor module was built at Aibel's yard in Thailand, and following a short stop in Haugesund, it is now in place on Troll A.
"The new module was lifted into place in a safe and sound manner. This has been planned for a long time, and it is therefore positive that we have reached this milestone, which is important for Troll A's gas deliveries over the next 50 years. Installing new modules weighing a total of more than 6,000 tonnes on an existing platform in operation is a huge task," says Knut Solemslie, production manager on Troll A.
The project will ensure a daily export capacity of 120 million standard cubic metres of gas and annual production of 30 billion standard cubic metres.
"This is equivalent to the consumption of more than 10 million European households. The project is therefore an important contributor to the European gas market. It will also be possible to extract the gas more quickly, while also increasing the technical lifetime of Troll A," says Tone Kristin Børslid, asset owner representative for the project.
Statoil currently has high pressure on low pressure. In all, the new compressors on Troll, Kvitebjørn, Åsgard, Kristin and Heidrun will contribute more than 1.2 billion barrels of additional oil equivalent. A giant field in itself, just from enhanced recovery.