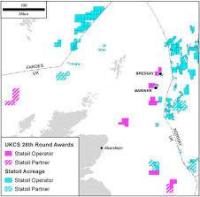 Statoil was awarded interests in 12 new licences, 9 as Operator, in the 28th licensing round on the UK Continental Shelf, announced by the Department of Energy and Climate Change.
"We were awarded all the acreage that we had applied for and are of course very pleased with the outcome of this licensing round. These awards strengthen our UK continental shelf portfolio significantly and underpin our long-term commitment as an operator in UK waters," says Erling Vågnes, senior vice president for exploration in Statoil.
Eleven of the licences are in the North Sea and the remaining one is West of Hebrides. In terms of size, this additional acreage constitutes almost 8000 square kilometres and thus represents access at scale.
Significant positions have been taken both in mature parts of the Central North Sea, such as in the vicinity of the Mariner and Bressay projects, and in relation to plays largely untested in UK waters. In this latter category, the acreage picked up on the northern margin of the Mid North Sea High (Quadrants 37 and 38) and in the Halibut Horst area (Quadrants 13 and 14) can be highlighted.