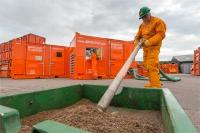 International industrial cleaning contractor Sureclean has invested £2million in equipment during 2013, increasing its fleet by around 10% which has allowed the company to significantly expand its global service offering.
Aberdeen and Alness-based Sureclean has made substantial investment into vacuum transfer technologies, increasing its number of vacuum pumps to 16. Specifically designed and custom built, this equipment is ATEX certified and is suitable for use in Zone II hazardous areas and provides an innovative, safe and ergonomic solution for the controlled movement of a wide range of waste materials.
Sureclean's vacuum transfer technologies minimise the need for entry into tanks or vessels to carry out essential cleaning, and can significantly reduce the confined space man-hours usually required for work of this nature.
In addition to the vacuum transfer units, Sureclean has also made significant investment into its vacuum systems which includes filtration units and vacuum skips. These complement the vacuum transfer units and form a building block for the optimum combination of equipment required for specific work-scopes.
Managing director John Barron commented: "We pride ourselves on our 'brain over brawn' philosophy, which proves that enhanced safety and productivity can be simultaneously achieved. One example of this is our vacuum transfer technology, which demonstrates that our innovative solutions not only handle operational requirements but also improve productivity and safety.
"At Sureclean, we invest in our people and our equipment to ensure that we have the capabilities to meet current client requirements, as well as future demand within our global industry.
"Our in-house research and development work, coupled with specialist technologies, has put Sureclean at the forefront of industry developments. We strive to maintain this position and will continue to invest in the company in the long term."