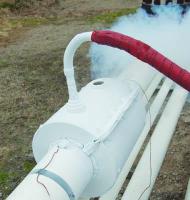 Most pipelines only flow in one direction, usually from an oil or gas source to a market hub. But what happens if contingencies change, with source and hub effectively switching places? Changing the flow direction of a pipeline is not a simple matter of reversing a few valves. A pipeline designed to flow in one direction needs complex restructuring in order to flow in another. It's not an impossible task, but it does require sophisticated engineering.
This was the challenge last year for a 300-mile Gulf Coast pipeline originally designed to flow from east to west. The development of new reserves of shale oil near the western terminus, however, resulted in the need for a switch in direction from sources in the west to refineries in the east. The 22-inch pipeline has a capacity of around 360,000 bpd.
Reversing the flow necessitated replacing in-line valves along the entire stretch of pipeline, which primarily traverses agricultural land, crossing a number of drainage ditches, streams and rivers. In addition, there were a number of defective valves needing replacement. Due to supply constraints in the area, quick completion of the job was a high priority.
Isolation technology allows safe, timely completion of complicated task The operator called upon T. D. Williamson (TDW), a global pipeline service provider, to deliver the technical expertise and essential tools necessary to carry out the pipeline intervention and pressure isolation tasks. Previous experience with TDW gave the operator the confidence that the job could be carried out safely, with precision, and in a timely manner.