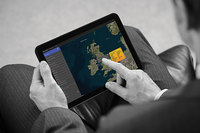 The Energy Industries Council (EIC), the trade association for companies that supply goods and services to the energy industries worldwide, has launched its newest business development tool, EICAssetMap, at Offshore Europe 2017.
EICAssetMap is an interactive operations and maintenance (O&M) database which maps all major UK energy facilities across all sectors (oil and gas, power, nuclear and renewables), the only database of its type to do so.
Visitors to the EIC pavilion at Offshore Europe were shown the product's key features and how it can help them to win work in the O&M sector.
Users can search for facilities by location, sector and operator. The database, which is updated daily by the EIC's expert analysts, charts the full lifecycle of energy facilities from start-up through to decommissioning.
As well as giving an overview of the facilities, it also provides contact information for the site operators and many of their contractors.
Designed with a company's sale force and service team in mind, EICAssetMap is tablet friendly, meaning it can be used on the move.
Commenting on the launch of EICAssetMap at Offshore Europe EIC CEO Stuart Broadley says, "The feedback we've had from visitors to our stand has been overwhelming, with everyone saying just how easy it is to use and how it is going to make a real difference to their businesses. I have a 20-year O&M background in energy myself, and I know that this type of tool was previously not available, and yet was always needed."
"The EIC is rightly renowned for its CAPEX project tracking database EICDataStream. With EICAssetMap we've extended our offering into the OPEX market, putting the details of all major UK energy facilities across all sectors at users' fingertips. This tool will give those companies working in the O&M sector, or thinking about entering it, a real edge in what is a very competitive market," adds Broadley.