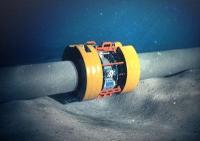 Tracerco, part of the FTSE100, Johnson Matthey Plc, is holding a live demonstration of the brand new version of DiscoveryTM, developed for ultra-deep-water applications, on May 7th and 8th at NASA's Neutral Buoyancy Laboratory in Houston.
Delegates are invited to witness a full underwater demonstration of Tracerco's game-changing subsea technology, DiscoveryTM, including a tour of NASA's Neutral Buoyancy Lab (NBL) facility, which contains a complete mock-up of the international space station used to train astronauts. The demonstrations will be held between 5:30 p.m. and 9:00 p.m. on 7th and 8th May and delegates can register to attend at http://info.tracerco.com/discovery-subsea-nasa-houston
Launched last year, DiscoveryTM is a major breakthrough in subsea pipeline inspection. For the first time, oil & gas companies can non-intrusively inspect complex subsea flow-lines (including pipe in pipe, risers and pipe bundles) for both flow assurance issues and integrity flaws from the outside of the pipe without removing any protective or insulation coatings.
DiscoveryTM was developed in direct response to oil companies' needs. It has the unique ability to take a 360 degree tomographic scan image of pipeline contents and wall conditions. Until now this has not been possible without first removing the protective coating on pipelines to permit conventional inspection techniques. The tomographic scan image produced by DiscoveryTM is accurate to nearly a millimetre radial resolution, more accurate than anything currently on the market for non-intrusive coated pipeline inspection, with the additional advantage of zero interruption to pipeline operation. DiscoveryTM can inspect any subsea flow line within its diameter range regardless of design complexity (e.g. pipe in pipe) without any risk of damage to the pipe.
The latest version allows DiscoveryTM to inspect pipelines at depths up to 10,000 ft and is fitted with a crawler mechanism to propel the scanner along the pipeline taking lateral measurements at multiple positions. Further refinements to the tomographic images are under development, bringing enhanced clarity to output data. Tracerco received investment from a major Gulf of Mexico based oil company in order to assist with development work on the already impressive technology.