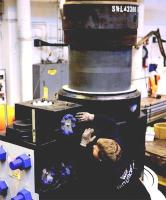 Trelleborg's offshore operation has secured a contract to supply its thermal insulation, corrosion and passive fire protection (PFP) solutions for use on the new Johan Sverdrup oil field in the North Sea, off Norway.
Contracted by Kvaerner, Trelleborg's offshore operation in Norway will supply its Vikotherm™ R2 thermal insulation coating to be applied to 12 risers. In addition, the company will provide corrosion coating for 195 riser guides, 40 caisson guides and 15 J-tube guides.
By working with Trelleborg, Kvaerner has reduced the number of its suppliers for insulation, corrosion and fire protection requirements, which is expected to save the contractor significant time and money throughout the life of the project. Production will begin at Trelleborg's facility in Krokstadelva in September and will continue until May 2016.
Ben Erik Jansen, Business Group Director at Trelleborg's offshore operation in Norway says: "We've worked closely with Kvaerner on previous projects, but we take no contract for granted. So when they confirmed that we had successfully won the project for the Johan Sverdup field, we were thrilled. We are looking forward to working with Kvaerner in the coming months."
Trelleborg's Vikotherm™ R2 rubber is chemically resistant to most corrosive liquids, gases, salt water, ozone and UV-light; all of which are corrosive agents commonly encountered in the offshore environment. In addition, the material's operating temperature ranges from -49 °C to +155 °C / -56 °F to 311 °F.