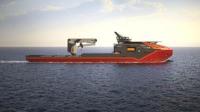 Vard Holdings Limited (VARD) has launched its new innovation project "A step forward".
VARD's innovations are developed with an emphasis on safety, user-friendliness, functionality, operability, cost optimization, fuel-economy and environmental performance. The project "A step forward" follows VARD's strategy and long shipbuilding traditions in developing high technology and new solutions. Despite challenging market conditions, VARD continues to take initiatives and cooperate closely with customers and partners to enhance the power of innovation in the maritime industry.
Three of VARD's specialized companies, Vard Accommodation, Vard Electro and Vard Design, have through a collaboration initiative joined forces with designer Per Ivar Selvaag and Montaag, a California- and Norway-based design agency, to develop a range of products and concepts. The goal has been to develop tools to enable higher returns on investment for our clients, increase the efficiency and ease of operations, and provide an attractive work environment on board. The new ideas present innovations as stand-alone products, or combined as a total concept.
New concept design The exterior cuts an unmistakable profile in the horizon; a reflection of its many exciting interior features. The captain sits perched above the ship overlooking the operations from the cockpit bridge – a compact, purposeful and focused environment that boast a 360 degree view of the ocean. Separate cockpit bridge and operations decks provide crew and client access to spacious working areas, allowing for an overview of the outside operations without interrupting the captain.
Work on board
The new SeaQ Bridge is designed with the operator in mind and organized to achieve a clean and efficient workspace with focus on ease of operation, safety and ergonomics. The functionality is built around a completely new framework for flexible integration of maritime software applications.