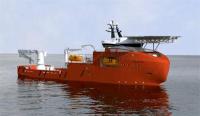 Vard Holdings Limited (VARD) has secured a contract with a new customer, Harkand Group (Harkand), for the design and construction of one Diving Support and Construction Vessel. The value of the contract exceeds NOK 1 billion.
The vessel is of VARD 3 03 design, specially designed and equipped for diving and subsea operation duties with a high focus on good sea-keeping abilities, excellent station keeping performances and low fuel consumption. The vessel will be fitted with a 250 ton offshore crane, a ROV hangar, and a Twin Bell 18 Man Saturation Diving System, supporting split level diving operations to a maximum diving depth of 300 meters.
The vessel is scheduled for delivery from Vard Søviknes in Norway in 2Q 2016. The hull of the vessel will be delivered from Vard Tulcea in Romania. The contract comprises an option to place an order for a second similar vessel.