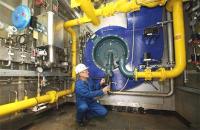 Wintershall has joined the international initiative against the flaring of associated gas during oil production. The aim of the "Zero Routine Flaring by 2030" initiative, which was launched by the World Bank together with UN Secretary General Ban Ki Moon, is to end the worldwide flaring of associated gas during routine operations by 2030. Members include governments, oil producers and development organisations. Each year, around 140 billion cubic meters of associated gas are flared worldwide during oil production. That corresponds to around 30 percent of the gas consumed each year in the EU. At the same time greenhouse gases are also released: more than 300 million tonnes of CO2 worldwide.
"Using resources efficiently and combining long-term economic success with environmental and social responsibility have priority for Wintershall," explains CEO Mario Mehren. To underline these goals, Wintershall has now joined the World Bank initiative as the largest internationally active German oil and gas producer.
Wintershall already met the goals of the initiative in 2012: since then the company has eliminated the flaring of associated gas during routine operations as operator and instead utilises this gas. All existing installations have already been upgraded, whereby the utilisation of associated gas is directly integrated into new facilities. Wintershall therefore already meets the highest international standards for the environmentally sustainable production of crude oil.