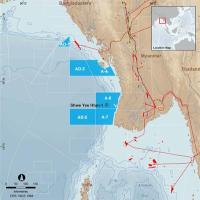 Woodside declares that the Shwe Yee Htun-1 exploration well in Block A-6 in the Rakhine Basin, located in the western offshore area of Myanmar, has intersected a gross gas column of approximately 129 m. Approximately 15 m of net gas pay is interpreted within the primary target interval.
The well reached the planned original total depth (TD) of 4810 m, referenced from the rig rotary table. Following drilling, wireline logging was conducted and confirmed the presence of a gas column through pressure measurements and gas sampling. The well was subsequently deepened to a final TD of 5306 m.
The well was spudded on 27 November, reached its original target on 23 December and wireline logging concluded on 29 December.
Shwe Yee Htun-1, in Block A-6, targeted one of many identified channel complexes that run over a large anticlinal feature, the Saung Anticline.
Woodside CEO Peter Coleman said he was pleased by the successful evaluation of the prospect, which provided evidence of a working petroleum system in the Rakhine Basin deep water.