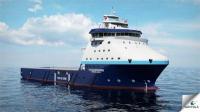 A second confirmed design contract for Wärtsilä's new series of arctic platform supply vessels has been signed. This latest order is for a multi-purpose platform supply vessel (MPSV) being built by Tersan Shipyard in Turkey on behalf of U.S.- based Tidewater Inc, the leading provider of offshore service vessels to the global energy industry. The vessel will be operated by the Norwegian Troms Offshore Supply Group, a 100%-owned subsidiary of Tidewater. There is an option for further three similar vessels.
A key element in the award of this contract was Tidewater's requirement for a compact design yet with a high deadweight giving maximum cargo capacity. Operational efficiency and reduced fuel consumption were among the other reasons why the Wärtsilä solution was selected. The vessel is designed to fit three Wärtsilä 8-cylinder in-line Wärtsilä 26 main engines, propulsion systems, a ballast water management system, and inert gas generators. The vessel is scheduled for delivery in 2016.
"Once again, Wärtsilä Ship Design's deep understanding of the complexities involved in operating in the harshest climatic conditions, and its ability to produce a design that fully meets the customer's expectations has been rewarded with a significant order. Wärtsilä's total solution capability, combining a strong and efficient design with fuel saving propulsion, is increasingly important in the market for ice class vessels," says Riku-Pekka Hägg, Vice President, Ship Design, Wärtsilä Ship Power.
The Wärtsilä design means that the ship will be strengthened and equipped for arctic conditions, with the hull and propulsion in compliance with DNV ice class ICE 1A. This verifies that the vessel has sufficient strength, power, and equipment to operate in arctic areas. Furthermore, the vessel will be readied for cold climate conditions according to the DNV DEICE class. This notation includes requirements for maintaining safety and vessel operability in ice, under icing conditions, and at low temperatures.