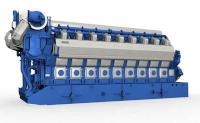 Wärtsilä has been contracted to supply a 56 MW Smart Power Generation power plant to the Stillwater Utilities Authority (SUA) in Oklahoma, USA. The contract was signed in September 2014 and the equipment delivery will begin in November 2015.
The power station will be used to balance wind and solar generation in Oklahoma. "When the wind stops blowing and the sun goes down, we need to keep up the load. Quick-starting engines are perfect for this," SUA's Director Dan Blankenship said. The plant will also be used for peaking power.
The new plant will replace a 26 MW gas turbine built in the 1950s. The main reason why SUA opted for internal combustion engine (ICE) technology was operational flexibility. "It takes eight hours to start our current capacity. Smart Power Generation can go from start-up to full load in just ten minutes," Dan Blankenship said. The plant will consist of three Wärtsilä 50SG engines, running on natural gas.
Operational flexibility is also appreciated because of the changing market environment in the area. In March 2014, Southwest Power Pool (SPP), the regional transmission organization, took over the dispatch of electric generation for all regional generators in Oklahoma. SPP determines on a daily basis which units will be operated to meet electricity demand most efficiently and reliably. Stillwater's former inefficient capacity has been called upon only as spinning reserve.
"With new, fast-reacting capacity, we expect to be dispatched more often. We will rank better in the merit order and get more running hours," Blankenship said.