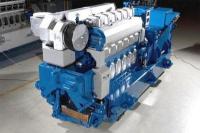 Wärtsilä has received an order to deliver generating sets for two new well intervention vessels for Siem Offshore A/S from Norway. The vessels are built by Flensburger Schiffbau Gesellschaft (FSG) in Flensburg, Germany. The order was signed in the end of May 2014.
Well intervention vessels are used in the maintenance of offshore oil wells to secure the oil flow and availability of the well. Dynamic positioning (DP) of the vessels is, therefore, crucial to their successful operation and it is critically important that the energy supply to the DP system is reliable and efficient.
Eight 6-cylinder in-line Wärtsilä 32 generating sets were chosen for each of these ships based upon the customer's requirements for best availability, reliability, and economic fuel consumption. Each genset will be fitted with an SCR catalyst to clean the exhaust and NOx emissions so as to comply with the IMO's Tier III environmental regulations. Delivery of the Wärtsilä equipment will commence in May 2015.
"Wärtsilä has a long and successful track record in working together with both FSG and Siem Offshore and we are again honoured to have been selected to supply solutions that are critical to the successful operations of these vessels. The Wärtsilä 32 engines are the most suitable for this project due to their overall performance in terms of fuel consumption, emissions, weight and size," says Matthias Becker, General Manager, Wärtsilä Ship Power in Germany.