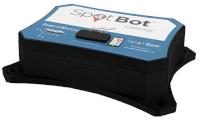 SpotSee, global provider of shock and vibration monitoring through low-cost connectivity and data and parent to established brands such as ShockWatch, ShockLog and OpsWatch, has announced the launch of SpotBot, a stand-alone device that delivers global, real-time, tri-axial impact monitoring and tracking through cellular connectivity. The product is designed with superior battery life for long journeys, reducing the need for battery changes.
"SpotBot has impact, temperature, a long battery life and global tracking all in one device," says Paula Simoes, vice president internet of things (IoT) portfolio & technology, SpotSee. "SpotBot is SpotSee's first product to have built-in connectivity that leverages the company's global IoT network, platform and proprietary ShockWatch hardware that enables its customers to spot damage in their operation and see it in real time."
SpotBot customers gain real-time visualisation through the SpotSee web-based platform, which also allows access to data from any web-based device. The SpotBot transmits information using cellular technology, eliminating the need for line of sight to a satellite for position or communication.
SpotBot combines ShockWatch and ShockLog technology to generate accurate data on impacts up to 65G, providing more than four times the spectrum of the best competitive alternative (which typically only captures impacts up to 16G). This range of impact monitoring is best suited for shipping weights from 100 to 60,000 lbs.
With off-the-shelf lithium batteries, SpotBot delivers more than 100 days of monitoring (set to hourly summary reporting). This represents a battery life that is more than twice the current industry standard.
The user easily defines impact settings specific to the product being monitored. SpotBot delivers a location and time stamp of alerts from impacts over the threshold in real time from all over the world. Users can visualise the asset's impacts over time or review a histogram of those events.
After a trip is complete, the user can easily download a report of impacts from the SpotBot.