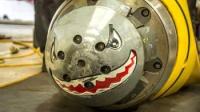 Subsea Riser Products (SRP), an Acteon company, has been awarded a large contract with Carnegie Wave Energy to provide subsea foundation connectors, articulating bearings and tether assemblies for Carnegie's Perth Wave Energy Project off Western Australia.
This is the first time that a variant of the SRP Rocksteady™ subsea mooring connector will be deployed on such a project, following successful qualification and fatigue testing in 2013. The Carnegie project will be the first wave power application in the world to operate with multiple wave power convertors in an array and the first to produce both clean power and fresh water.
The scope of the contract includes three Rocksteady™ mooring or foundation connectors, with a breaking load (MBL) rating of 2,000 tonnes. They are part of articulated bearing assemblies in a shallow water depth of 30m, situated off the coast of Western Australia. Manufacturing and assembly work will take place in the UK and mainland Europe, and the first phase of equipment will be delivered in the first quarter of 2014. The project will require skills from a range of departments within SRP, including design, engineering, quality and procurement.