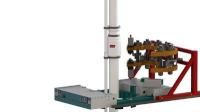 Subsea Riser Products Ltd (SRP), an Acteon company, has secured a contract to develop and qualify its Nimway 510 and Nimway 710 completion and workover riser connectors for a leading subsea wellheads and production systems provider.
The commitment of more than US$ 4 million is against SRP successfully qualifying the connectors to ISO 13628-7:2005 and the latest working draft of API specification 17G (2015); with the client obtaining exclusive rights to the 5 ¼-in. and 7 ⅜-in. 10,000 psi connectors for at least two years.
The contract is paired with a strategic supply agreement, which enables SRP to source wider support services from other Acteon companies involved in subsea risers and moorings, including 2H Offshore and Pulse Structural Monitoring.
The qualification programme involves manufacturing the connectors, welding them to production-grade pipe and then testing their endurance using hydrostatic pressure, bending and resonant fatigue tests. The design and machining work for the contract will be done in the UK, with forgings procured from Italy. The qualification testing work will be completed primarily in Houston, USA. The qualification programme will be complete by the first quarter of 2016.