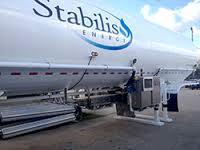 Stabilis Energy and Flint Hills Resources plans for their joint venture to acquire property in Odessa, Texas for the proposed construction of its second planned Liquefied Natural Gas (LNG) facility. The plant is expected to have a capacity of approximately 100,000 gallons per day and would serve high horsepower oilfield fuel applications in the Permian Basin in West Texas. Stabilis Energy will begin taking orders for LNG supply immediately and production could begin in 2016.
The joint venture's first LNG production facility is scheduled to open in January 2015 in George West, Texas. This 100,000 gallon per day facility will produce LNG for customers in the Eagle Ford Shale.
"Stabilis is pleased to lay the groundwork for our second LNG liquefaction facility in Odessa," said Casey Crenshaw, President and CEO of Stabilis Energy. "Stabilis strives to provide oilfield engine operators with a reliable source of LNG fuel that helps reduce costs and improves environmental performance. The West Texas facility will complement our existing operations in South Texas and provide our customers with a complete LNG fuel solution across the region."