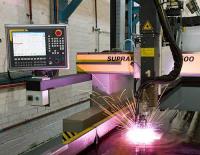 Stainless UK has manufactured stainless steel profiled plates to be used as thruster back plates and gussets on a deep water subsea CPT testing system rig.
Cone Penetration Testing was developed in the 1950s as a method of establishing the bearing capacity of soft ground into which foundation piles were to be driven. More recently the technique has been used to test the strength of soft sea bed at depths of up to 3,000 metres.
Stainless UK manufactured the profiles for the 12mm thick Grade 316 stainless back plates and gussets using a high definition water injection plasma cutter in their Sheffield factory. This technique produces a clean, square edged, high tolerance profile – an essential requirement of the product.