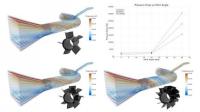 The latest release of Siemens' STAR-CCM+® software for multiphysics computational fluid dynamics (CFD) simulation and analysis includes two new seamlessly integrated features which enable automated product design exploration and optimisation. STAR-CCM+ version 12.04 introduces Design Manager, allowing users to easily explore multiple design options within their CFD simulations, and STAR-Innovate™ software, which uses the same proven design optimisation technology found in HEEDS™ software – a technology Siemens obtained as part of its 2016 acquisition of CD-adapco. STAR-CCM+ is developed by Siemens' product lifecycle management (PLM) software business, and is part of the company's Simcenter™ portfolio, a robust suite of simulation and test solutions.
"I firmly believe that single-scenario engineering simulations are about to become a thing of the past," says Jean-Claude Ercolanelli, Senior VP of Product Management at Siemens PLM Software. "If you know how to use STAR-CCM+ then you will instinctively know how to use Design Manager. This means that every engineer who installs STAR-CCM+ v12.04 can now conduct design exploration studies with ease to discover better designs, faster."
Companies are looking for innovative answers to today's challenging engineering problems to differentiate themselves in the market. Using simulation to explore what is feasible drives this innovation. Design Manager enables users to set up and automatically evaluate families of designs directly within STAR-CCM+, including process management and performance assessment. It leverages the all-in-one platform, automated meshing, pipelined workflow and accurate physics in STAR-CCM+ to overcome the complexities that have historically prevented many from using CFD simulation in this way. Design Manager, which automates the systematic exploration of designs by evaluating variations in geometry and operating conditions, is included with every instance of STAR-CCM+ v12.04.
With the addition of the STAR-Innovate add-on, users can take it one step further and perform single and multi-objective optimisation studies to intelligently search the design space using the same time-tested and proven technology found in HEEDS. It also provides stochastic analysis to help engineers determine the sensitivity of their simulation predictions to small changes in input parameters, such as manufacturing tolerances on a critical dimension or fluctuations in boundary condition values.
"STAR-CCM+ is the only multiphysics CFD offering that seamlessly enables engineers to perform design exploration studies backed by an industrial-strength optimisation tool like HEEDS," adds Ercolanelli. "As a result, engineers can spend less time setting up and monitoring simulations, and more time assessing the outcomes to determine what makes good designs great. This is a game-changer."