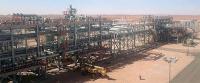 Statoil and partners Sonatrach and BP have declared the startup of its Southern Fields project on In Salah in Algeria.
The Statoil production from the southern fields will be around 22 000 equity barrels oil equivalents per day in 2016.
"Algeria is an important country in Statoil's portfolio. Through the startup of In Salah Southern Fields we are capturing value from existing positions as part of the strategy to shape our next generation portfolio", says Lars Christian Bacher, executive vice president Development and Production International.