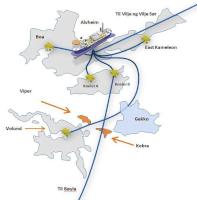 Aker BP has announced the start-up of production from Viper-Kobra, which is tied back to the Alvheim FPSO. The project is developed on time and within budget.
"The Viper-Kobra project is developed on time, on budget and is a small, but important project for Aker BP. Viper-Kobra leverages on the existing infrastructure in the Alvheim area, thus ensuring maximum utilization of the adjacent resources and will contribute to maintain the Alvheim production at a high level," says Geir Solli, SVP Operation at Aker BP.
The development costs for Viper-Kobra is approximately NOK 1.8 billion, including the drilling of two wells, subsea installations, pipelines and hook-up. Viper-Kobra consists of two separate discoveries, were Kobra was discovered in 1997, production licence 203, and Viper, production licence 203, in 2009. Viper-Kobra is not a separate field, but constitutes part of the Alvheim field. Thus, the development is included in the PDO for Alvheim, as are the other structures in the area.
The development comprises of a new subsea installation with a pipeline tied into the Volund manifold. The four well slots are designated for one well from Viper and one from Kobra, in addition to two well slots intended for potential future wells in the area.
The two reservoirs contain approximately 4 million barrels of recoverable oil each. Including some gas, total recoverable reserves are estimated at 9 million barrels of oil equivalents. The estimated output of the two wells is planned to an average initial daily rate of 15,000 barrels of oil equivalents.
The distribution of ownership interests corresponds to that of the Alvheim licence; Aker BP, operator, 65%, ConocoPhillips 20% and Lundin Norway with a 15% interest.