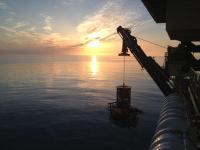 Bibby Offshore's newest international division, Houston-based Bibby Subsea, has gone from strength to strength since its launch in October last year, having trebled the team in the past four months.
The subsea installation contractor developed the base in North America as part of its continued global growth strategy and to meet the growing demand of its clients in the region. In a bid to further strengthen ties with the region, Aberdeen-based Bibby Offshore last week hosted Houston based HM Consul General, Andrew Millar, the senior official representing the government in Texas, Louisiana, Arkansas and Oklahoma.
Alongside Aberdeenshire Council Provost Jill Webster, Chief Executive of Subsea UK Neil Gordon, and senior members of Aberdeenshire Council; discussions were held regarding Aberdeenshire's extensive investment into the Subsea Industry and plans to further develop Bibby Offshore's presence in Houston and the Gulf of Mexico.