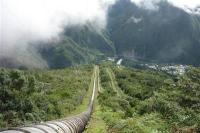 Statkraft has signed an agreement to buy a majority stake in the listed Chilean hydropower company Empresa Eléctrica Pilmaiquén S.A. (Pilmaiquén).
The agreement initially includes the purchase of 70.47% of the shares and triggers a mandatory offer to all shareholders. Completion of the transaction requires fulfilment of certain conditions, including Statkraft acquiring a minimum of 75% of the shares.
Pilmaiquén owns and operates the Rucatayo hydropower plant (52.5 MW/309 GWh) in the south of Chile, including a transmission line connecting the power plant to the grid. The company also holds water rights for three hydropower projects in the same river. Two of the projects, Osorno (54.3 MW/343 GWh) and Los Lagos (50.8 MW/310 GWh) are ready for construction, and the transmission line has the necessary capacity to connect all three projects. The company has 43 employees based locally and in Santiago.
"This acquisition strengthens Statkraft's position in Chile and expands our project portfolio for further growth within international hydropower," says EVP International Hydropower, Øistein Andresen.