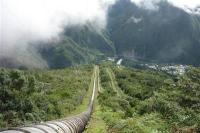 Statkraft and Norfund have signed an agreement expressing their intention to restructure and prolong their cooperation within renewable energy. The aim is to create a leading international hydropower cluster, based on assets from Statkraft, SN Power and Agua Imara.
The parties have agreed with binding effect that Norfund's option to sell its shares in SN Power to Statkraft in Q4 2013 is postponed to Q2 2014.
The agreement contains the framework for future ownership structure and cooperation. The aim is to reach final and binding agreements by the end of Q4 2013, prolonging the companies' strategic cooperation in renewable energy with a strong focus on hydropower in emerging markets.