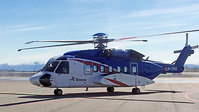 Together, Statoil and Eni have awarded Bristow the contract for one SAR helicopter, and one transport helicopter, which can be converted to a SAR helicopter when needed. Both are Sikorsky S-92 helicopters.
Each contract has a duration of 5 years with options to extend by up to 3 years.
The two helicopters will serve production, development and exploration operations in the Barents Sea for the two companies and for Statoil the contracts will be used in connection with the Johan Castberg field, pending an investment decision by the end of year.
The helicopters will also be used for drilling operations on the Snøhvit field, and in the company's exploration operations in the Barents Sea. The contract will run from September 2018.
"These long-term contracts mean that Hammerfest will be an important helicopter base for us for many years to come. Hammerfest has the infrastructure and expertise to provide efficient helicopter services, and of particular importance, the helicopter base is close to our operations in the Barents Sea", says Philippe F. Mathieu, senior vice president for Joint Operations Support in Statoil.
The helicopters included in the contract use the Best Available Technology (BAT), which contributes to enhanced safety offshore. The SAR helicopter will be equipped with the newly developed NVG (Night Vision Goggles) technology, as well as other search technology, which significantly enhances its rescue capability, especially in search and rescue operations in the dark.
Furthermore, it will be possible to convert the transport helicopter at short notice for use in SAR operations. The contract includes services related to crew changes and search and rescue services.
In recent years, Eni Norge and Statoil have cooperated on the joint procurement of helicopter services in the Barents Sea. This contributes to flexibility and good utilisation of capacity, as well as long-term planning for the supplier.
"We look forward to continuing the cooperation with Bristow. The contract has been awarded following great interest and good competition in the market. At the same time, the cooperation with ENI means that we can use the helicopter resources efficiently, and maintain a sound helicopter service from Hammerfest, with transport and search and rescue capacity," says Pål Eitrheim, Statoil's chief procurement officer.
Bristow Norway, who has also provided helicopter services to the companies under the current contract, submitted the best tender in a competitive market with several strong tenderers.