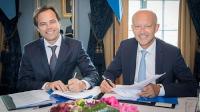 Statoil and Argentina's energy company YPF have entered into an agreement to jointly explore hydrocarbons in the Bajo del Toro block in the Neuquén Basin onshore Argentina.
The preliminary agreement (term sheet) between the companies was signed in Geneva by Statoil's executive vice president for Exploration, Tim Dodson, and YPF's vice president for business development & development engineering, Sergio Giorgi.
Statoil will enter the Bajo del Toro exploration permit in the Neuquén Basin as a partner with a 50% participating interest, with the operator YPF retaining a 50% interest. As a consideration, Statoil shall recognise to YPF past cost incurred in the block and fund 100% of the cost of certain future activities in the block (promote). The Bajo del Toro exploration block represents a country-entry for Statoil into Argentina.
"This is a light oil exploration project in a world-class unconventional resource play, the Vaca Muerta formation. The opportunity has an excellent fit with Statoil's sharpened strategy, and is in line with our exploration strategy of delivering profitable, high-quality resources," says Tim Dodson.
"We are very pleased to expand our cooperation with YPF, the leading player in the Neuquén Basin, and look forward to work closely with them to unlock the potential in the Bajo del Toro block," adds Dodson.
"Bringing in a new international player like Statoil into the country shows confidence in Vaca Muerta as a promising shale play and in YPF as a leading operator. We are pleased to expand the cooperation between both companies," says YPF Chairman, Miguel Angel Gutierrez.
The Bajo del Toro exploration permit covers an area of 157 km2 (38,800 acres), located in the Neuquén Basin in the west-central part of Argentina. The Vaca Muerta formation is the main target in the basin. In the next few months, the parties will conclude the final agreements. Prior to closing of the deal, the agreements have to be approved by the Neuquén provincial authorities.
In 2016, Statoil signed a technical study agreement with YPF to map exploration opportunities in a large area of the continental slope offshore Argentina.