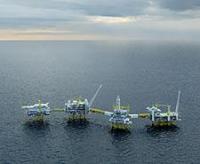 Statoil, on behalf of the Johan Sverdrup license, has awarded Samsung the contract for decks for both the process and riser platforms. The total contract value is NOK 7 billion.
The contract is a fabrication contract (FC) of decks for the process and riser platforms. Aker Solutions has previously been awarded engineering work and purchase of equipment packages for the two aforementioned decks.
The function of the process platform, which weighs approx. 26,000 tonnes, is to ensure stabilisation of the oil and processing into rich gas.
The riser platform, which weighs approx. 22,000 tonnes, will serve oil and gas exports, water and gas injection, as well as any future connections. The power cable from onshore also ends at this platform, where the current is transformed from direct current into alternating current for further distribution to the field centre.
The platform deck will be manufactured at the Samsung's shipyard in South Korea.
"Johan Sverdrup is a large puzzle in which many suppliers must deliver with precision, quality and on time in order for us to start production towards the end of 2019 and this contract is yet another important milestone for the Johan Sverdrup project. Samsung has extensive experience in manufacturing such installations and we already have a good collaboration with the supplier. They have provided a competitive bid in a tough international competition," says Margareth Øvrum, executive vice president for Technology, projects and drilling at Statoil.