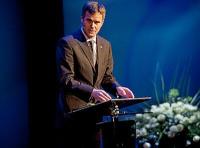 "We have to live with fossil fuels as the dominant part of the energy mix for decades," says Statoil president and CEO Helge Lund at the 2013 Autumn Conference.
"The big question is therefore how to make production cleaner than today, and make consumption more efficient. This is not simply a task for politicians and world leaders, although they play a major role. Industry and the private sector need to be committed and to contribute," Lund says.
In the 2013 World Energy Outlook, the International Energy Agency (IEA) presents a central scenario in which global energy demand rises by one-third in the period to 2035. Today's share of fossil fuels in the global mix is 82%, the same as it was 25 years ago. The strong rise of renewables only reduces this to around 75% in 2035.
"Those who argue that we should stop exploring and harvesting existing fields, and block new opportunities are, at best, preparing for a future that doesn't exist - or which will be sustainable for very few. At worst, it is a way forward that will prevent a better and brighter future for millions of people," says Lund.
If the world comes together in a response to meet the IEA's 2-degree scenario, there is still need for new production. To deal with the decline of production from existing fields we must replace some four times the level of Saudi Arabia's production of oil. We also need to add approximately 10 times the gas production capacity from the Norwegian continental shelf to meet the demand of such a low-carbon future.