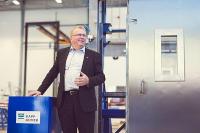 In 2015, Rapp Bomek and Statoil signed a frame agreement for the supply of internal and external fire doors to the Johan Sverdrup field development. The production of fire doors to the entire project will run through 2016 and partly into 2017. This frame agreement and the option for deliveries to the projects Johan Sverdrup phase II, Johan Castberg, Snorre 2040 and Peregrino is one of the largest contracts in the company's history.
Eldar Sætre, president and CEO of Statoil, was in Bodø in connection with the Arctic Race of Norway. Statoil is the main sponsor of the bicycle race which is taking place for the fourth time this year. As a part of Statoil's technical program visited Sætre and a group of other guests Rapp Bomek as well. After a presentation about the company, the guests went on a production-tour where Terje Bøe, CEO of Rapp Bomek, presented and explained the production process of fire doors. In the production hall they got to take an exclusive look at the first fire door produced to Johan Sverdrup field. Eldar Sætre got the opportunity to check and open this door.
"The development of Johan Sverdrup is one of the most important industry projects in Norway in the next years. The contract with Rapp Bomek was the first which went to a company in Northern Norway and demonstrates that both Norwegian and Northern Norwegian industry is competitive in a global market. This is really pleasing" said Sætre before he opened the first fire door manufactured for Johan Sverdrup.
"It's a great honour for us to host a seminar in relation to Artic Race of Norway and to have the top management of Statoil present to open the first fire door to the Johan Sverdrup project. This was a strategic important contract for us and one of the biggest single contract in the company history. With the current market conditions with lower investment activity and price pressure we are very satisfied to be chosen as the supplier of such important safety equipment. This demonstrate our competitiveness as the market leader and confirms that we are able to win huge contracts in competition with international suppliers by offering the best technological solutions at competitive terms" says CEO Terje Bøe in Rapp Bomek.